Information
January 15, 2020
Thank you for your continued warmth and happiness. Also, thank you very much for your special attention. By the way, from February 3, 2nd Reiwa, We are relocating our office to the address below. We will make every effort to reward our patronage with new feelings. We look forward to your continued guidance and encouragement. Generosity January 1st Reiwa 1 New address:〒247-0034 1-25 Katsuradainaka, Sakae-ku, Yokohama-shi, Kanagawa Telephone:045-512-3450 Delight Makers Inc.
February 3, 2019 Information
Established July 7, 2017. Finally our company web page is now open. Would be grateful if we could support you to bring a new excitement to your life.
Motto
Life is having friends, Company is having fans.
Our Greetings
"Life is having friends, Company is having fans."
We are addressing this motto everyday to make this happen.
Some people questioned "What do you mean by Making fans? "
Simple answer to this is "Earning profit is company's ultimate goal is same as being healthy in lifetime". In other words, caring only for health but no friends makes your life happy? Most people say "No". We believe that this also applies to company. Just earning high revenue means nothing if customers or clients are unpleased.
As time passes, a company having more fans will become more popular while unpleased will be putting aside and forgotten.
How company to be liked and how to remain so; This is what we are and will be challenging to find answer to this question.
As first step, we continue to update our service to more favorable to our customers to be selected first.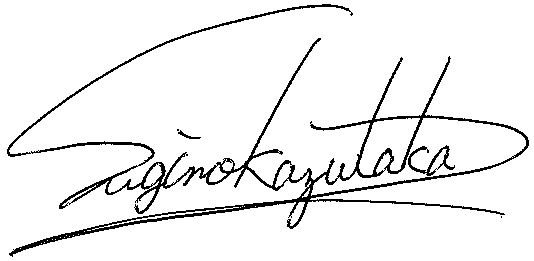 Miki Sugino
Representative Director